Chicago, IL — MxD announced this week that its CEO, Chandra Brown, is a finalist in the Outstanding Tech CEO category of the 13th Annual Momentum Awards.
Ms. Brown is a finalist in the Outstanding Tech CEO category. As CEO of the nation's digital manufacturing institute, she oversees a nearly $100 million-dollar portfolio of manufacturing technology, cybersecurity, and workforce development. Ms. Brown was previously the CEO of United Streetcar and was also appointed as Deputy Assistant Secretary for Manufacturing at the Department of Commerce.
The organizers of the Momentum Awards, 1871 and The Chicagoland Entrepreneurial Center (CEC), also announced finalists in award categories including: Momentum Award, Rising Star Award, CityLIGHTS Award, and Industry Disrupter Award.
"This year's group of finalists demonstrates the forward-thinking, inspiring and civic entrepreneurs and business leaders that continue Chicago's legacy as a global leader for technology, innovation and entrepreneurship," said Larry Eppley, CEC Board Chairman and Sheppard Mullin Chicago Office Managing Partner, in a news release from 1871. "Each year, we continue to witness the entrepreneurial baton be passed from one generation to the next."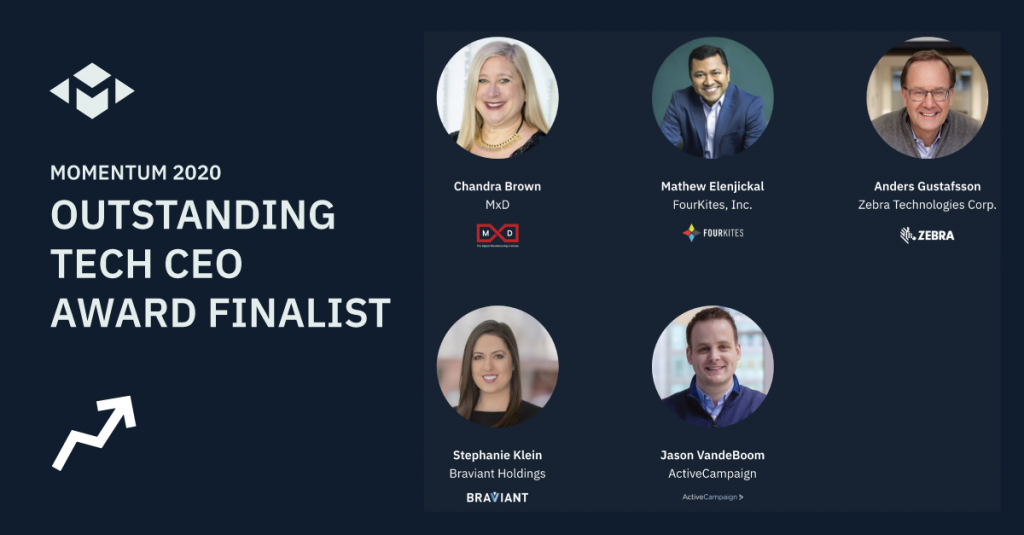 Finalists in the aforementioned categories have been deduced from 1871's largest pool yet, where 212 nominees have been generated through public nomination and deliberated amongst 100+ judges that span Chicago's business and innovation sectors. The Outstanding CEO category had 45 nominations for five finalist spots.
"The finalists for this year's Rising Star Award, Momentum Award, CityLIGHTS Award, Outstanding Tech CEO Award, and Industry Disrupter Award reflect Chicago's extraordinary community of founders and innovators," said Betsy Ziegler, CEO of 1871. I'm honored to recognize all of our finalists for their achievements and commitment to our city's tech and entrepreneurial ecosystem. Each one of these companies serves as proof that Chicago is one of the best cities in the world to build a business."
From here, the Outstanding Tech CEO Award, CityLIGHTS Award, and Industry Disrupter Award finalists will move on to a final public voting round, opening from now until August 28th. The Rising Star Award and Momentum Award now will loop back into a judging cycle that will be held by 1871's Board of Directors. All five of the mentioned awards will be virtually announced at the ceremony.
"It is a privilege to be among this list of esteemed companies and professionals in Chicago's vibrant tech scene," said Ms. Brown. "I am particularly proud to carry the mantle for digital manufacturing, which has potential not only to boost the economy in trying times, but also to be an essential aspect of addressing the COVID-19 crisis through increasing transparency and resiliency in supply chain and manufacturing operations for protective equipment, vaccine production, and the distribution of needed staples to communities across the country."
The event will be attended virtually by Chicago's best and brightest tech innovators, corporate leaders, and civic supporters. It is the largest gathering of the tech community annually and the primary fundraiser for the CEC, which supports the activities and operations of 1871.
Vote for Chandra Brown for Outstanding Tech CEO here.
About MxD
MxD, the nation's digital manufacturing institute, is where innovative manufacturers go to forge their futures. In partnership with the Department of Defense, MxD equips U.S. factories with the digital tools, cybersecurity, and workforce expertise they need to begin building every part better than the last. As a result, our nearly 300 partners increase their productivity and win more business.
About CEC
Founded in 1999, the CEC is a non-profit organization that supports entrepreneurs on their path to building high-growth, sustainable businesses that serve as platforms for economic development and civic leadership. Its flagship project, 1871, fulfills CEC's vision of a central address for entrepreneurs in Chicago. The CEC runs and operates the workspace, develops programming, organizes events, and ensures that the culture of 1871 allows entrepreneurs the greatest opportunity for success
About 1871
1871 is Chicago's technology hub and the #1 ranked private business incubator in the world. It exists to inspire, equip, and support founders, growth-scalers and innovators in building extraordinary businesses. 1871 is home to ~450 technology startups, ~400+ growth stage companies, and ~1,500 members, and is supported by an entire ecosystem focused on accelerating their growth and creating jobs in the Chicagoland area. The member experience includes virtual and in person access to workshops, events, mentorship, and more. The nonprofit organization has 350 mentors available to its members, alongside access to more than 100 partner corporations, universities, education programs, accelerators, venture funds and others. Since its inception in 2012, more than 650 alumni companies are currently still active, have created over 11,000 jobs, and have raised more than $1.65 billion in follow-on capital.