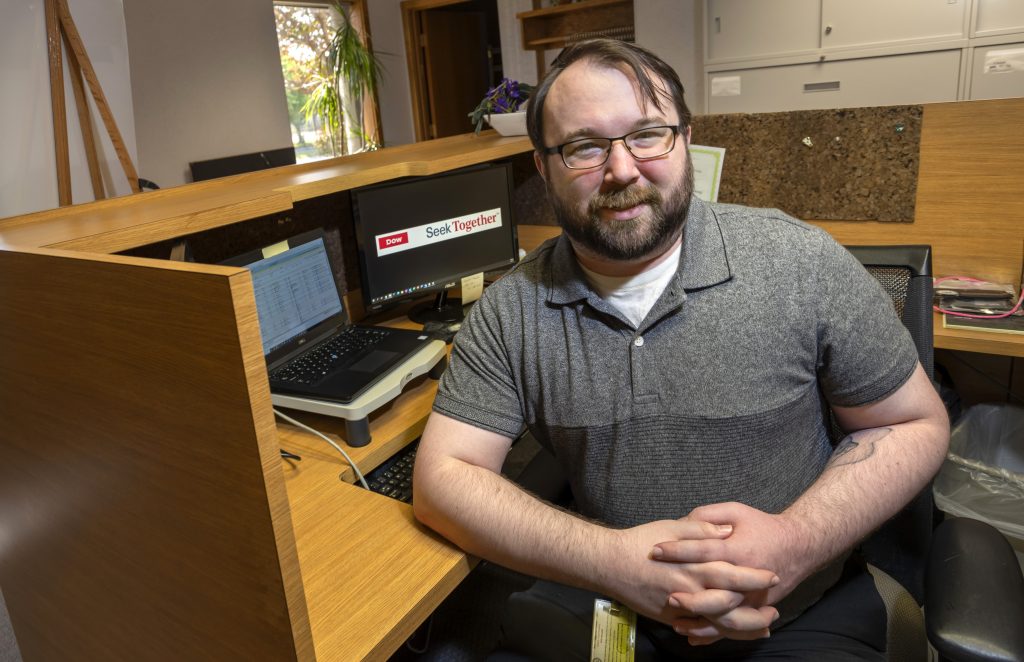 By Deborah Shelton for MxD
In retrospect, it makes perfect sense that Douglas Hillman landed a career in cybersecurity.
He has always been intrigued by computers, his father's line of work. He served six years in the Air Force making sure aircraft armament systems functioned properly and securely. And he's had a lifelong fascination with solving puzzles.
"I like a good challenge," he said, "and I also like actual puzzles," particularly Tavern Puzzles, also known as blacksmith puzzles, where two or more pieces of metal are twisted together, disentangled and then put back together.
Even so, his career path from high school graduate to cybersecurity analyst in the manufacturing industry was not a straight line. In fact, Hillman's career journey crashed into a pothole early on.
He enrolled in college but eventually concluded that he just wasn't ready.
So he dropped out.
"I wasn't sure what I wanted to do," he said.
So at age 21, he joined the Air Force where as an armament systems technician, he loaded munitions on aircraft and monitored weapons and equipment.
Ready to move on after six years of service, he arrived at another crossroads as he contemplated his next steps. While researching prospective jobs he found himself drawn to cybersecurity.
"There was a huge deficit in personnel in the U.S. and that was projected to grow, which was attractive," said Hillman, 31, who grew up "across Michigan" but has lived in small-town Midland for the last four years. "And cybersecurity is just interesting to me."
When he told an aunt who works at Dow, the global material sciences company, that he was considering work in cybersecurity, she forwarded a link to a job posting. Hillman joined Dow part-time in 2017 in a role that allowed him to attend Saginaw Valley State University, where he recently earned a bachelor's degree in computer science.
But the most important step in advancing his cybersecurity career, Hillman said, came via training he's currently completing. That training, the Cybersecurity for Manufacturing Operational Technology Curriculum, known as CyMOT, is the first program of its kind to focus on increasing manufacturing workers' cybersecurity skills. Thanks to CyMOT training, Hillman said, he recently stepped into a full-time position as a cybersecurity analyst in the Operations IT/OT Tech center at Dow.
Created through a partnership between MxD and the Center for Cybersecurity at the University of Maryland, Baltimore County and funded by the U.S. Department of Defense, CyMOT launched last summer with the goal of helping manufacturers upskill workers to prevent cyberattacks.
Manufacturing floors have become increasingly digital, and with the rise in remote work and remote manufacturing operations, businesses have become even more vulnerable to cyberattacks.
As a result, job openings in manufacturing cybersecurity, growing in number even before the pandemic, are expected to skyrocket. As of March, there were about 465,000 open positions in cybersecurity nationwide, according to CyberSeek, an interactive tool from the U.S. Commerce Department's National Institute of Standards and Technology (NIST).
The web-based CyMOT courses target adult learners and teach fundamentals that help students get skills to fill specific jobs in cybersecurity, manufacturing, and operational technology. Classes include real-time interactive, self-paced, and experience-based (hands-on) training modules.
When Hillman graduates this summer, he will receive a certification in cyber systems operations.
In his current role at Dow, Hillman says he helps manage firewalls, making sure that they're configured properly and also reconfiguring them when necessary. He also is tasked with building networks and exploring possibilities for next-generation firewalls.
Using SQL reporting, he creates reports and dashboards to track metrics that ensure that computers, servers and other devices connected to the internet are up-to-date with antivirus, patching, and additional crucial software.
He loves his job.
"I like to build things. And I like puzzles. So setting up a network and building it is very rewarding to me," Hillman said. "Figuring out how to keep it secure while allowing the traffic that needs to be flowing through to flow is sometimes very much like a puzzle."
Learning new technology is the most challenging aspect of the work because it's rapidly changing, he said. "I can't cut and paste an answer because, usually, by the time the same issue comes around, something is different, and I have to figure out what to do."
While it might not seem like a big surprise that Hillman built a career in cybersecurity, given some of his lifelong interests, his journey has been anything but predictable.
"I was adamant that I would never join the military," he said. "And then when I got out of the military, I figured getting a job in cybersecurity was unlikely given that I had no experience and had no training or anything like that."
Now, he's done both.
What would he recommend to someone who wants to follow in his footsteps?
Finishing your education and getting specialized training is a solid foundation. He is grateful for the CyMOT training.
"It would be beneficial to have actual hands-on experience," he said. "That's how I learned."
But there is no one right way, he said.
"I know that there are people in my career field who are self-taught so I don't think if you do steps A, B, and C, you'll [automatically] be ready," he said. "Figure out what you need to know and then figure out how to learn."
In short, get accustomed to not knowing everything — and be willing to jump in and solve those puzzles.  
---
Interested in entering the field of manufacturing cybersecurity — or looking for ways to upskill your workforce? Download MxD's free Hiring Guide: Cybersecurity in Manufacturing. The Hiring Guide features 247 current and future cyber roles and recommends how to train and upskill workers to handle them.