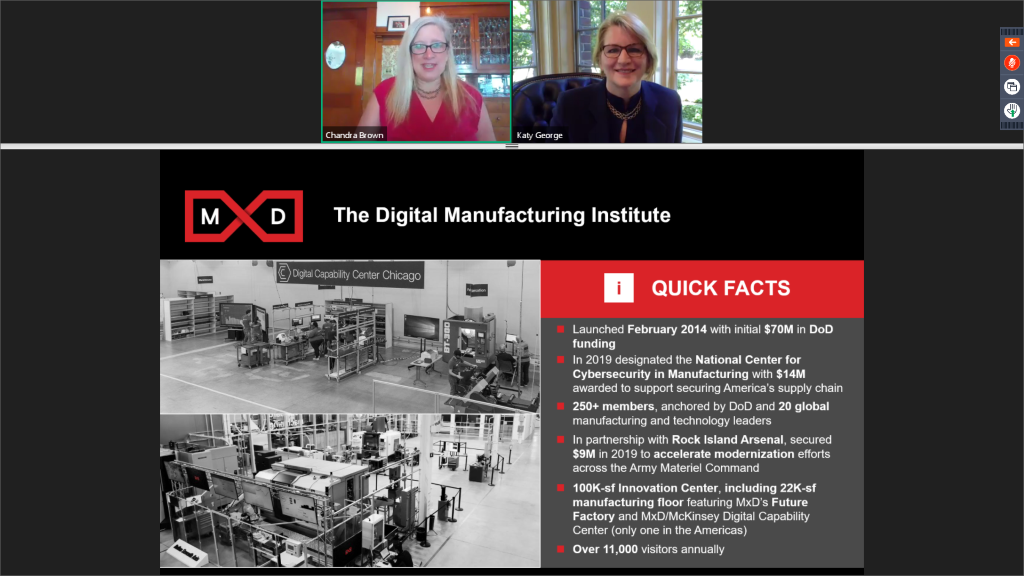 MxD and McKinsey & Company have just kicked off a five-part series on jump-starting resilient and reimagined operations in a post-pandemic reality. In the first installment, virtual attendees heard from Chandra Brown, MxD CEO, and Katy George, a Senior Partner at McKinsey & Company and the North American Leader and Global Co-Convenor of McKinsey's Operations Practice, which includes the firm's services in manufacturing and supply chain.
Katy shared five major themes starting with building operations resilience, which led to an interactive discussion on how MxD, McKinsey, and their partners and clients are handling these issues in practice.

1) Building operations resilience
The COVID-19 crisis highlighted weaknesses in our global supply chain constructs and approach, demonstrating to industries including services and manufacturing that they were more vulnerable to disruption than previously understood.
Companies within these industries are now working to ensure they are not that vulnerable in the future. Increased scrutiny of supply chains in pharmaceuticals, for example, have shown that ingredients that have been inexpensive and dependable have been sourced from Asia, and long-term accessibility is less certain. Supplier strategies must be evaluated and updated from a single source to dual source to operate more resiliently.


2) Accelerating end-to-end digitization
Many companies that did not invest in digital capabilities to create visibility across their supply chain suffered with the onset of the pandemic. Even those organizations that began their digital journey wished they had gone further as the issues they hoped to address became more urgent. Digitization is critical to increase the flexibility of supply chains in a cost-effective and efficient way.


3) Rapidly increasing capital- and operating-expense transparency
There is widespread uncertainty as to how long the current recession will last and which sectors it will affect most acutely. Digital tools can bring more transparency to cost structures in terms of capital and operating expenses, pinpointing where to focus to preserve P&L to the greatest extent possible.


4) Driving the future of work
It goes without saying that COVID-19 has had a catastrophic impact on the workforce across countless industries. Capturing the opportunities that it has simultaneously unleashed is critical to weathering future crises. For example, clients that have struggled with uptake of augmented reality technologies are accelerating their implementation as the value of AR becomes more apparent.
The resourcefulness and creativity that companies have employed to apply digital technologies and analytics to their workforce have dramatically, and permanently, accelerated the future of work.


5) Reimagining a sustainable operations competitive advantage
Companies are changing the way they're thinking about their operations capabilities. Some of those can be translated into new benefits for end customers and new business models. Concepts like mass customization can be leveraged to survive during this period but can also create competitive advantage going forward. As industries reemerge post-COVID, they should continue asking themselves, "Who do we want to be?" and "How can we be smart about innovating in the way that we work?"
Webinar attendees chimed in with their questions, one of which was how to encourage progress in the above areas from slow-to-move C-suites. Chandra offered two practical suggestions: First, pick one area and implement it well. Once a CEO sees the ROI, the initiative sells itself. Second, recognize that CEOs have different skill sets and should have experts close at hand to consult to fill in the gaps. Diversity – on boards, on kitchen cabinets, and elsewhere in the leadership team – is incredibly important in this context to avoid having a stagnant mindset.
If you missed this webinar, you can access the recording in MxD's webinar library. Tune into the remaining parts of the five-part series by registering on MxD's website. And read the McKinsey article that inspired the webinar collaboration here.